==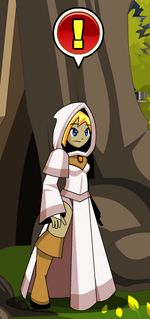 Cleric Joy== Welcome to the town of Battleon! Our land is filled with dangerous monsters and a great war is about to take place. Please tell me, what adventure brings you to Battleon?
Start Your Journey

Help

Trainers

Battleon Assorted Shop
After Completing NewbieEdit
Thank you for saving our town, Hero! I have never seen anyone beat up a Princess before, the Dragon must be very grateful! You should go to the King in Swordhaven immediately. But be careful…an army of the undead is attacking!
Visit the King:To Swordhaven!
Help
Noobshire
Trainers
Battleon Assorted Shop
After Helping the King of SwordhavenEdit
The AGE OF CHAOS!? Who is this Drakath and how did he get so powerful? If everything you have told me is true, the next thing we should do is investigate the crash site of the undead Dragon Fortress. Perhaps Sepulchre's Daughter survived. To be continued….
Replay Swordhaven
Help
Trainers
Battleon Assorted Shop
After helping Sepulchure's DaughterEdit
You have been a great service to Sepulchure's Daughter already - can you be more assistance to her? Travel back to Shadowfall to take the next step on your journey.
Return to Shadowfall
Help
Trainers
Battleon Assorted Shop