==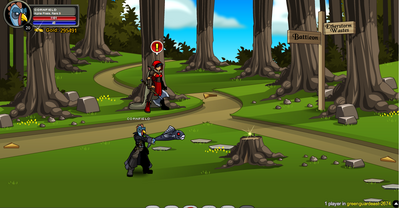 Greenguard (East)==

Monsters:
NPC's:
Red Hunting Hood
Tom Foolery
Shops: N/A
Map Name: greenguardeast
Room Limit:
Access Points:
/join greenguardeast
Battleon Town - Exit east at Guardian Tower
Bloodtusk Ravine - Exit south at Room 1
Darkovia Graveyard - Exit
Greenguard (West) - Exit east
Willow Creek - Exit left
Farm - Exit Right
River - Exit left
Shallows - Exit let
Trunk - Exit
Well - Exit
Screen Shots:
Ad blocker interference detected!
Wikia is a free-to-use site that makes money from advertising. We have a modified experience for viewers using ad blockers

Wikia is not accessible if you've made further modifications. Remove the custom ad blocker rule(s) and the page will load as expected.