==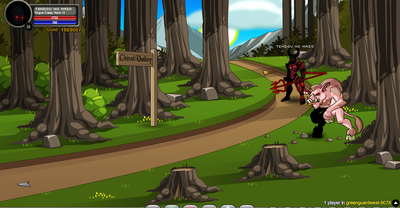 Greenguard (West) == Monsters:
Black Knight (Summoned)
Frogzard x9
Slime x11
Wereboar x1
NPC's:
3 Little Wolves
Imsomniac Beauty
Mazumi
The Black Knight
Shops:
3 Little Wolve's Shop
Black Knight's Shop
Map Name: greenguardwest
Room Limit: 6
Access Points:
/join greenguardwest
Battleon Town - Exit west on Room 1
Clubhouse - Exit west on Room 1
Deathgazers Realm - Exit South
Greenguard Dragon's Lair - Exit north on Room 1
Greenguard (East) - Exit West
Lightguard - Exit on Room 1
Newbie - Exit north on Room 6
Noobshire - Exit south on Room 1
Tower of Magic - Exit south on Room 1
Screen Shots:
Ad blocker interference detected!
Wikia is a free-to-use site that makes money from advertising. We have a modified experience for viewers using ad blockers

Wikia is not accessible if you've made further modifications. Remove the custom ad blocker rule(s) and the page will load as expected.